Airport management and optimisation
Automatic people counting is an asset to airport management as it helps to optimise operations and improve the overall passenger experience.
By accurately counting the number of passengers entering and leaving the airport, airport managers can allocate resources such as security staff and baggage handlers more efficiently. This minimises waiting times and improves the flow of passenger traffic, resulting in a more efficient and seamless airport experience.
By optimising operations and reducing waiting times, automatic people counting improves the overall customer experience at the airport. Passengers can move through the airport more quickly and efficiently, reducing stress and frustration and improving overall satisfaction. This is therefore an important consideration for airport operators. Several solutions exist to enable this optimisation, including passenger flow management.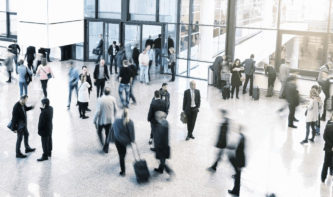 Automatic people counting systems provide real-time data that can be used to inform decision-making and improve operations. This data can also be used to track passenger behaviour and identify trends, enabling airport managers to make informed decisions on resource allocation and operational optimisation.
Making the improvement of the passenger experience at airports a priority
Passenger counting and queue management are other key ways to improve the passenger experience at airports. Passenger counting is the process of accurately tracking the number of passengers entering and leaving an airport. This information can be used to monitor passenger flow, identify peak times and bottlenecks, and adjust staffing levels accordingly. By monitoring passenger flow, airports can ensure that queues are kept to a minimum and that passengers are managed efficiently, reducing the time they spend queuing. This can significantly improve the passenger experience, as they are less likely to be frustrated or stressed while waiting.
Airports can use queue management systems to monitor queue lengths, allowing them to adjust staffing levels to ensure efficient processing of passengers. This can help to reduce the number of passengers frustrated by waiting and improve the overall passenger experience.
At the level of sanitary facilities, the management of passenger flows is also essential. Highly accurate counting sensors can count the number of people entering and leaving the toilet blocks in real time and when a threshold of users is reached, an alert is automatically sent by the system to the maintenance staff. This allows cleaning to be carried out in an optimal manner after a certain number of users have passed through. The reception of passengers is therefore improved and the cleaning staff better managed.
For more information click here
Acorel at Passenger terminal Expo, the leading airport trade fair

We would like to remind you that Acorel will be present at the Passenger Terminal Expo in Amsterdam from 14 to 16 March 2023. We look forward to seeing you at Stand 1257 to talk about real-time queue management, real-time passenger information and health protocol optimisation.