Acorel can help you manage summer flows !
Summer is approaching and you're thinking about going somewhere else? But what you may not know is that Acorel solutions can help you manage summer traffic flows on holiday.
For example, if you want to have a picnic at the Parc de la tête d'or in Lyon or enjoy yourself at the Musée Confluence, leave your car in the Park & Ride facility and enjoy the freedom! 
Whether you're travelling by bus, tram or metro, Acorel gives network regulators the data they need every day to provide you with a transport offer that's adapted to your needs and allows you to travel in pleasant conditions. The same applies if you want to visit the Grand'Place in Lille or Brussels, or in Marseille for a stroll along the old port before a dip in the Prado. In each case, Acorel enables operators to know and predict future traffic flows, making everyone's daily life more pleasant and comfortable. Once you're in Marseille, you might just want to take off for a few days.
Here again, Acorel is at your side in PAF queues. Acorel's counting data can be used to provide AMP agents with real-time waiting times, so that they can request the opening of additional booths when needed. Our system also displays a green light to let you know when a seat is available. Our "Airport" system can be found in Nantes, Paris Charles de Gaulle, Toulouse and Bale Mulhouse, where we also contribute to the cleanliness of the toilets and therefore to your comfort, thanks to the alerts sent by our system to the cleaning service when the configurable visitor threshold is reached.
Acorel, a global player in flow management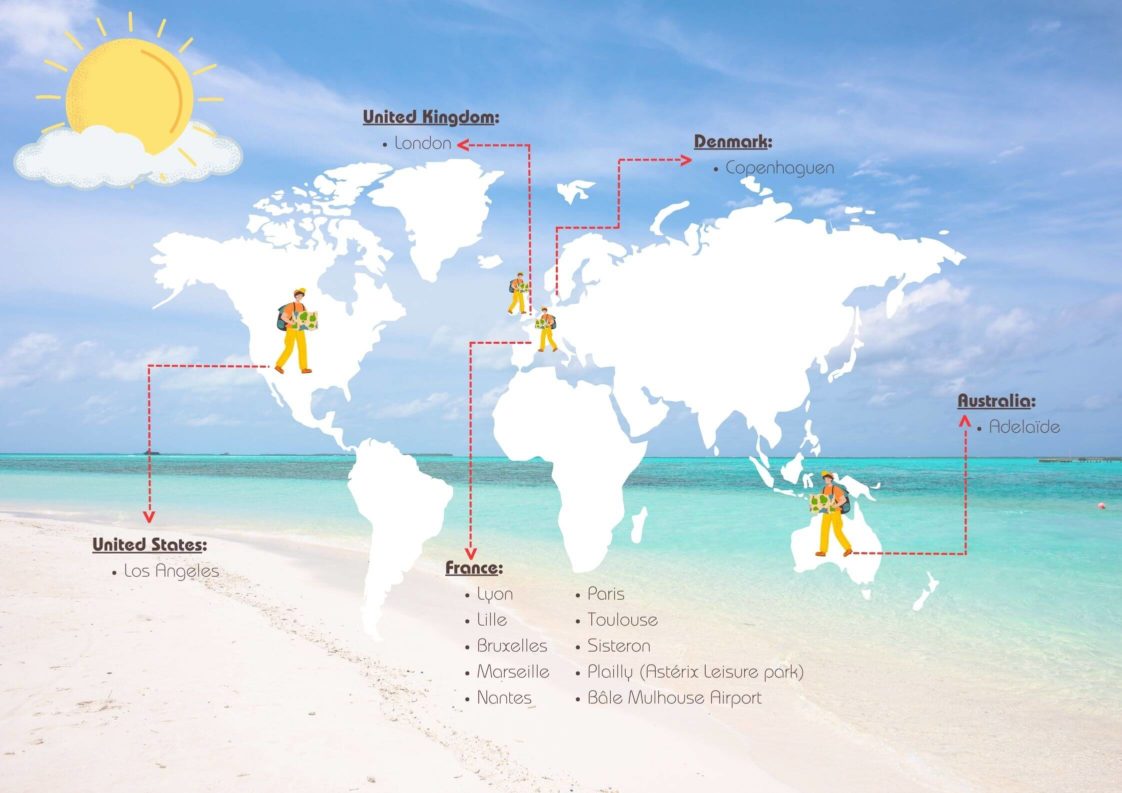 If your plane lands in London, we'll be on the tube, just like in Copenhagen, or even on the trains in Adelaide in Australia and Los Angeles in the USA.
If you're more of a thrill-seeker, you'll find us in the queues at Parc Astérix, where our data is used to keep you informed about waiting times.
With the heatwave still with us, it's probably in the waters of the Sisteron lake that you'll finally find a bit of coolness, with visitor numbers also regulated in real time by the Acorel solution.
To finish off this hectic holiday, you'll probably want to find some peace and quiet during a visit to the Musée d'Orsay. Don't worry, Acorel can manage the flow and regulate the number of visitors to make your visit a success.
Of course, there are many other places where, behind the scenes, Acorel helps decision-makers to make your life smoother, and we'll be telling you all about them soon!
If you need to understand and manage the flow of people, Acorel is here to help.
Don't hesitate, give us a call and if you do from an Orange shop, you've already been counted …
For more information, click here